FAMILY TRAVEL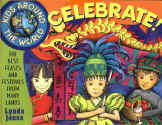 KIDS AROUND THE WORLD CELEBRATE! The Best Feasts and Festivals from Many Lands, Lynda Jones

Everyone loves a reason to have a good time, and although cultures around the world have their own unique feasts and festivals, we all share many of the same reasons to celebrate. Now you can learn about the many ways people from around the globe celebrate their special days, and join in the fun!
Celebrate Chinese New Year while making chiao-tzu dumplings, then pop over to Saudi Arabia and taste delicious date-nut cookies called ma'amoul while celebrating Eid ul-Fitr. Make an elaborate Venetian mask to wear at a masquerade ball in Venice during carnevale, then pound out a festive rhythm on the Igbo drum you've made and celebrate the Iriji festival in Nigeria. Eat, drink, and make merry with the many diverse and exciting crafts, recipes, and activities in this book. No matter what language you say it in, celebrations are fun!
Ages 9-12
$12.95 (softcover)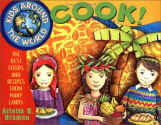 KIDS AROUND THE WORLD COOK! The Best Foods and Recipes from Many Lands, Arlette N. Braman
What do kids in Jamaica eat for breakfast? How can you make a delicious loaf of challah bread? Who created the first chocolate chip cookie? Let your curiosity—and appetite—run wild while you learn how to make scrumptious delicacies from cultures across the globe.

Kids Around the World Cook! takes you on a taste-bud-tingling tour to lands far and near with a fun assortment of trivia and lots of safe and easy-to-make recipes. Begin your meal in Ethiopia, as you sample the thin, pancake-shaped bread called injera, then take off to Japan, where you can make the mouthwatering traditional dinner called kushiyaki. Visit India on a hot summer day and enjoy the yummy taste of lassi, a sweet yogurt drink, and finish off your meal in Egypt with baklawa, a flaky pastry made with nuts, coconut, and butter.

This is a fabulous blend of fascinating facts and delicious recipes. Impress your family and friends and, best of all, sample all of the tasty results of your exciting excursions.
Ages 9-12
$12.95 (softcover)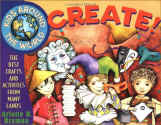 KIDS AROUND THE WORLD CREATE! The Best Crafts and Activities from Many Lands, Arlette N. Braman

There's nothing like the thrill of finding out about faraway places. Now you can meet the people and share the customs of different countries by creating some of the things that keep their cultures alive.
You'll make a bookmark with a Guatemalan design using a cardboard loom or an Egyptian bead necklace using dough or store-bought clay. Learn how prehistoric people told stories by making your own version of a cave painting, or make a good-luck charm in the form of a Tibetan goodwill message flag. Kids Around the World Create! is full of fun crafts and activities that will teach you about the customs of cultures around the world.

Every country has something special to offer, and all the activities in this book help you enjoy and explore this diversity. All the crafts are easy to do and the supplies are made up of simple household materials. Have fun as you journey to distant and exciting lands!
Ages 9-12
$12.95 (softcover)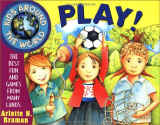 KIDS AROUND THE WORLD PLAY! The Best Fun and Games from Many Lands, Arlette N. Braman
Learn to play Mexican kickball. Practice throwing jackstones the way kids do in Kenya. Discover how to construct a galimoto (wire toy from Malawi) with pipe cleaners. With Kids Around the World Play!, you'll have a great time exploring the traditions of other cultures while you sharpen your wits with the memory game from South Africa called dithwai, or challenge your racing skills in the South Korean flower relay, or make your own cool bilboquet, a toy from France.

Filled with games and activities from places near and far, including China, Japan, india, Mexico, Bolivia, italy, and Russia, among many others, this collection also gives you plenty of fascinating facts about the history and culture of each country. All the toys and games can be made or played with just a few simple materials easily found around the house. So get ready for tons of fun and excitement while you discover just how much you have in common with kids around the world!
Ages 9-12
$12.95 (softcover)


TRAVEL SERVICES