These charming Travel Buddies are delightful and practical luggage sets for the younger set. They're fun to carry, lightweight and carry-on size.
These nesting travel duos make travelling particularly fun for kids and life easier for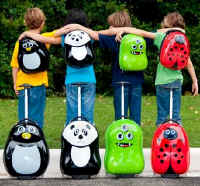 parents. By pairing a sturdyhardshell wheelie and backpack together for vacations, daytrips, and overnighters, parents will find either or both pieces are up to the job of making it fun and helping kids stay organized.