ITALY
| | |
| --- | --- |
| | Major Cities and Towns: Turin, Asti, Cuneo, Novara, Vercelli, Ivrea, Verbania, Biela, Allessandria |
Not many books about this region have been written in or translated into English. For more information about this region we suggest you visit our ALL ITALY section.
BACKGROUND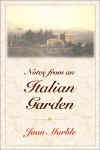 NOTES FROM AN ITALIAN GARDEN, Joan Marble
Thirty years ago journalist Marble and her sculptor husband, Robert Cook, bought an unpromising piece of land near the little hamlet of Canale, north of Rome where the ancient Etruscans once lived. Here they built a house and, more important, set out to start a wonderful garden. All was not easy, however. They faced incomprehension from the local inhabitants. "Why do you want to have a garden here?" they were asked. "There's no water, the ground is like cement, it's too cold in winter and too hot in summer, it never rains. . . ." But Marble and Cook's enthusiasm for the land, their ignorance of the obstacles that faced them, their downright obstinacy and the unexpected friends who helped them -- all served to conquer the intransigent terrain. Inspirational, aspirational, enchanting -- this is an account of a passion for a place and an obsession with a garden that will charm all who love Italy, gardening, and life.
$25.00 (hardcover)


Pasquale's Nose: Idle Days in an Italian Town, Michael Rips

This travel memoir follows a criminal lawyer who runs away to a small Etruscan village with his wife and new baby and finds a community of the most eccentric people he's ever met. In Sutri he headed straight for the local café and there begins the journey of Pasquale's Nose. Sutri has a rich history, maybe even as rich as the locals claim. Descended from Etruscans, the Sutrini have an annual festival for the native bean that cured Charlemagne's gout and saved Europe. Among the villagers is a remnant of the local gentry famous for his ability to lay his healing hands on cars or tractors, fixing them instantly. And then there's Pasquale himself, a man whose sense of smell is so sensitive to the odors of people's feet that he is practically driven crazy by his own nose.

Fanciful, philosophical, and moving, this is a journey, a memoir, and a story about finding home in one of the weirdest places imaginable.

$23.95 (hardcover)

TRAVEL SERVICES