LIVING LANGUAGE IN-FLIGHT LANGUAGE PROGRAMS
60-minute audio CD and a handy pocket-sized reference
In-Flight Language Programs are the perfect boarding passes to help travellers learn just enough of a language to get by (and to make use of that spare time on a plane).
The 60-minute programs are the simplest way to learn just enough to get by in situations essential to both vacationers and business travellers. The short survival courses cover over 400 basic words, phrases and expressi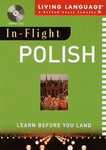 ons essential for getting through airports, hotels, restaurants, stores, and much more. The programs cover everything from greetings and polite expressions to asking directions, getting around, checking into a hotel, and going to a restaurant. There are even sections for meeting people and spending a night on the town.
Short lessons make the In-Flight series easy to use and handy pocket-sized inserts (called "boarding passes" - cute!) are included as cheat sheets for use on the go.