Country Map
Touring & Motoring Atlas
Italy
Italy
735
Spiral Bound
Scale: 1:1,000K
Scale: 1,300K
Includes 74 town and city plans and full place name index
$13.95
$29.95
Features:
Road classification includes an indication of the number of lanes, and restricted routes, steep gradients, height and load limits, and driving distances are marked.
Railways and ferries are included.
Hill shading shows relief, with additional peak heights marked.
Administrative boundaries and national/regional parks are indicated.
Tourist information includes scenic routes and symbols for viewpoints, sport and recreational facilities, various landmarks, antiquities and sites of interest.
Each regional map includes a road distance chart, index and some small street plans of selected town centers.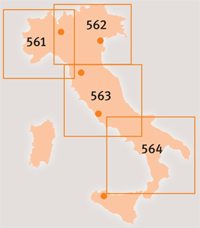 | | | | |
| --- | --- | --- | --- |
| | | | |
| Regional Map | Regional Map | Regional Map | Regional Map |
| Northwest | Northeast | Central | South |
| 561 | 562 | 563 | 564 |
| Valle d'Aosta, Piemonte, Lombardia, Liguria | Trentino Alto Adige, Veneto, Friuli-Venezia Giulia, Emilia-Romagna | Toscana, Umbria, San Marino, Marche, Lazio, Abruzzo | Molise, Campania, Puglia, Basilicata, Calabria |
| Scale: 1:400K | Scale: 1:400K | Scale: 1:400K | Scale: 1:400K |
| $13.95 | $13.95 | $13.95 | $13.95 |
| | | | |
| | |
| --- | --- |
| | |
| Local Map | Local Map |
| Sicily | Sardinia |
| 365 | 366 |
| Scale: 1:200K | Scale: 1:200K |
| $12.95 | $12.95 |
| | |