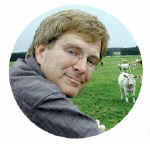 Rick Steves gives travellers inside information on where to stay, what to visit, and how to get there—economically and hassle-free. With Rick Steves as a guide, travellers can delve into European culture, make friends with the locals, and experience everything Europe has to offer.
Each year Rick spends more than five months travelling throughout Europe, updating his guides, and searching out new "back door" discoveries. His humourous guidebooks include selective coverage of both famous and lesser-known sights; friendly places to eat and sleep; suggested day plans; walking tours and trip itineraries; and clear instructions for smooth travel anywhere by car, train, or foot.
Rick Steves' Europe is seen on public television stations in the U.S. and Canada.