Made in Italy: A Shopper's Guide to Italy's Best Artisanal Traditions from Murano Glass to Ceramics, Jewelry, Leather Goods and More, Laura Morelli
Morelli first visited Italy as a sixteen-year-old girl. She returned with a piece of Murano glass and a passion for the country's artistic traditions. Later, living in a small town near Milan, she scoured the countryside for artisans who carry on authentic traditions of the Old World.
The result is Made in Italy, a guide to shopping and touring Italy's handmade treasures--including Sicilian ceramics, the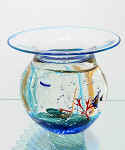 Murano glass of Venice, Tuscan terracotta, gold and coral jewelry of Sardinia, Florence's marble paper, Torre del Greco's cameos, and much, much more. Organized by region, Made in Italy takes a complete tour of the dazzling artisanal legacy of Italy, uncovering one-of-a-kind hidden workshops and off-the-beaten-path tours. Pocket-sized, packed with useful tips on pricing, quality and value, with a year-round calendar of craft festivals, this is a great supplemental guide for everyone interested in fillling their suitcases with the best of Italy.