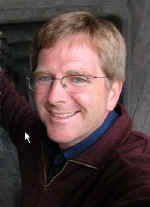 Rick Steves advocates smart independent travel. As host, writer and producer of the popular public television series Rick Steves' Europe, and best-selling author of 30 European travel books, he encourages Americans to delve deep into Europe and become "temporary locals." His readers and viewers not only discover major cities, but also cozy villages away from tourist-trampled routes.
Rick took his first trip to Europe in 1969, visiting piano factories with his father, a piano importer. In an excerpt from Michael Shapiro's new book, A Sense of Place, Rick explains, "The most important thing I remember about my first trip to Europe is that I didn't want to go there and my parents dragged me — I was a fourteen-year-old kid. I thought, I work hard as a student, and my pay is my summer break, and they're taking it away from me. And then I got over there — my dad used to import pianos and we had relatives to visit in Norway and so on — so we got over there and I remember being fascinated…. It broadened my world."
By the time he reached 18, Rick jokes, "I realized I didn't need my parents to travel!" He began travelling on his own, funding his trips by teaching piano lessons. In 1976, he started a business called Europe Through the Back Door (ETBD), which has since grown from a one-man operation to a company with a well-travelled staff of 60 full-time employees.
Over the past dozen years, Rick has hosted nearly 100 travel shows for public television and numerous pledge specials. Rick's relationship with public television began with his first series, Travels In Europe With Rick Steves. Since then, he has become one of public television's top pledge drive hosts, raising millions of dollars annually for stations across the U.S. His current TV series, Rick Steves' Europe, is carried by 300 public television stations annually, reaching 95% of U.S. markets.
Rick self-published the first edition of his travel skills book, Europe Through the Back Door, in 1980. Now a best-seller, it is currently in its 23rd edition. He has also written 12 country guidebooks, nine city and regional guides, six phrase books, and co-authored Europe 101: History and Art for Travelers and a new guide to Best European City Walks and Museums. His Italy guidebook is the bestselling international guidebook in the U.S. In 1999, he tackled a new genre of travel writing with his anecdotal Postcards from Europe, recounting his favorite moments from 25 years of travel.
In addition to his guidebooks, Rick also pens columns for newspapers and magazines, and is a contributing writer for ABCNews.com. He appears frequently on television, radio, and the Internet as the leading authority on independent European travel.
Rick lives and works in his hometown of Edmonds, Washington. His office window overlooks his old junior high school. He lives with his wife Anne, and two children, Andy and Jackie.