GEOCHRON
The Geochron simultaneously shows time and displays the extent of daylight and darkness throughout the world. The only instrument of its kind, the Smithsonian Institute calls it the last significant contribution in time keeping. A highly accurate wall map and world time clock, it is often used to decorate an office, boardroom or reception area.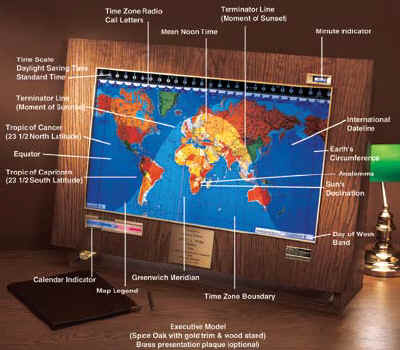 Specifically, the Geochron shows the following:
WORLD TIME: There are 34 local world time zones and Geochron shows them all and eliminates the confusion caused by time conversation factors, the International Dateline, and the question of A.M. or P.M. involved in the use of a 12 hour clock. With Geochron, the entire world time situation is seen at a glance.

DATE AND DAY OF THE WEEK: Days of the week and dates of the month throughout the world are clearly indicated. Since the map moves from left to right, the International Dateline crosses the frame once each day. The days, date and month observed on either side of the Dateline are displayed via indicators mounted at the Geochron's bottom.

DAY AND NIGHT: Geochron illustrates where it's day and where it's night. See sunrise, high noon and sunset as they happen around the world. Ever-changing areas of day and night make a complete cycle every 24 hours and gradually changes shape with the seasons. What's more, the Geochron can be moved forward or backward in time showing the time of sunrise and sunset in any given place and date, past or future -- perfect for mystery writers and travel planners.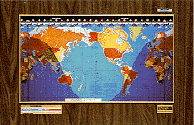 SEASONS: As the seasons change, the light pattern will reflect this throughout a year. See the pictures below where the clock is showing; the Summer Solstice; the Winter Solstice and The Spring and Autumn Equinoxes!
Summer Solstice
Winter Solstice
Vernal & Autumnal Equinoxes
North of the equator, the longest day of the year (summer);
south of the equator, the shortest day of the year (winter).
North of the equator, the shortest day of the year (winter);
south of the equator, the longest day of the year (summer).
The two moments of the year midway between summer and winter, during which the hours of light and darkness are equal at all latitudes.
TRAVEL SERVICES