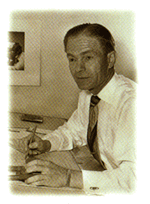 The Geochron was invented by James Kilburg, a career mechanical engineer who perfected his craft and knack for ingenuity while living in Luxembourg, his native land.

After moving to America, Kilburg devoted his life creating innovations such as the car cigarette lighter (still in use today), the first automatic dialing telephone, as well as an automated maraschino cherry pitter.

Yet ironically, his crowning achievement may never have been invented were it not for his wife, Dorothy. The year was 1962, and Kilburg was overseas visiting relatives. Unable to make the trip, one day Dorothy picked up the phone to call him. With some help from the international operator, she got through. Unfortunately for her husband, it happened to be 2:00 a.m. From that moment on, Kilburg had all the inspiration he needed to create the world's first accurate time machine. A year later, the Geochron was born.