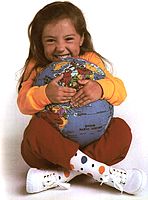 Give a gift of the world! These soft, huggable globes will delight any child -- old or young. Made of sturdy cotton, filled with new reclaimed fibers, and printed with nontoxic color fast inks, these soft, squishy globes make great sofa pillows and help kids locate their place in the world.
For toddlers -- A two year old can start learning geography. Show a toddler a place on the Hugg-A-Planet, then ask her to find it again. She will.

For preschoolers -- This handy sofa pillow is always within arms reach for easy reference. With over 600 places names, it is a fun way to see where grandma lives -- or to plan a vacation.

For the older set -- This pillow promotes geography, political science and environmental awareness. While this does not replace a traditional globe, its 600 place names make it useful for general reference. And it's a great conversation piece and reading pillow.

For everyone - this is one of the few toys shared by government, business and religious leaders worldwide. Hugg-A-Planet is responsible for Mother Earth to finally be hugged millions of times over.