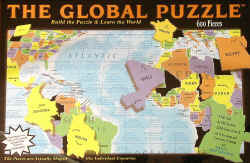 Did you know that the average individual knows where only 18 of the world's 193 countries are located?
Here's a way to quickly learn the countries of the world and have fun at the same time. This puzzle's pieces are shaped like individual countries (and states and provinces). By working with each piece until it fits within the bordering countries, the puzzler makes a a mental connection that remains in memory. It's like building the world from scratch!
The Global Puzzle contains:
All 193 countries and their capitals
All 50 states of the US and their capitals
All 13 territories and provinces of Canada and their capitals
Lots of other geographical information contained within the oceans' borders
Robinson projection map which minimizes the distortion of relative size and shape produced by all flat world maps.
600 pieces - completed size: 36 x 18"
Tests have proven that the Global Puzzle is an extremely effective geography learning tool.